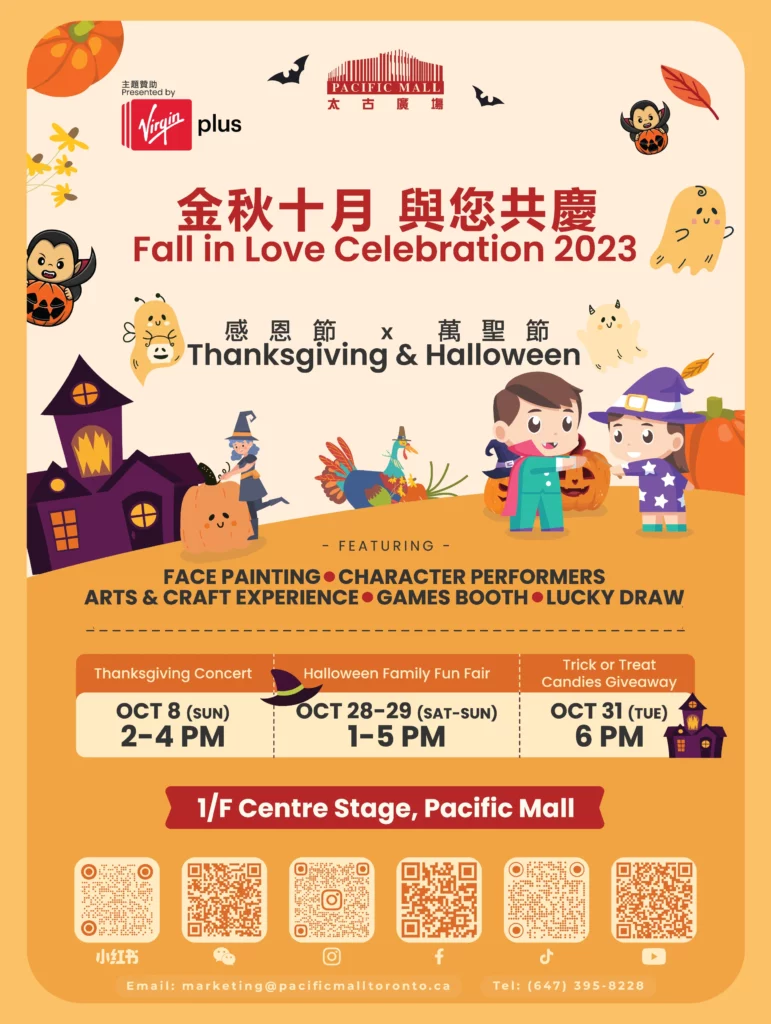 Fall In Love with Pacific Mall this October! 
 Virgin Plus Presents: Fall in Love Celebration is currently happening! Come join our stage show with games, lucky draw, magic show, and more!
 And don't forget, our artistic fun fair (free to attend and participate at all booth activities) and signature Halloween Trick or Treat candies distribution will be on October 31st at 6PM sharp.
Pacific Mall is the largest indoor Asian shopping mall in Canada. The mall includes the Heritage Town, center stage and 2 underground parking levels, all function as a notable tourist destination in the Greater Toronto Area
 With over 380 stores & over 2000 parking spaces, over 24 events all year around 
這個10月來太古廣場共慶金秋吧! Virgin Plus 主題贊助:太古金秋十月慶典 正式啟動!第一波在感恩節長週末,10月8日(週日)下午2點到4點,將有舞台表演活動, 包括魔術表演、幸運抽獎、勁歌熱舞等一連串活動! 我們不見不散!

太古廣場全年365天開放,超過380家商店及超過2000個停車位,商場包括民俗村、美食廣場、中央舞台和地下停車場,開放時間為早上十一點到晚上八點。太古廣場期待與您共度27週年!